December 22, 2021
'NIGHT MOTHER Cast Announced!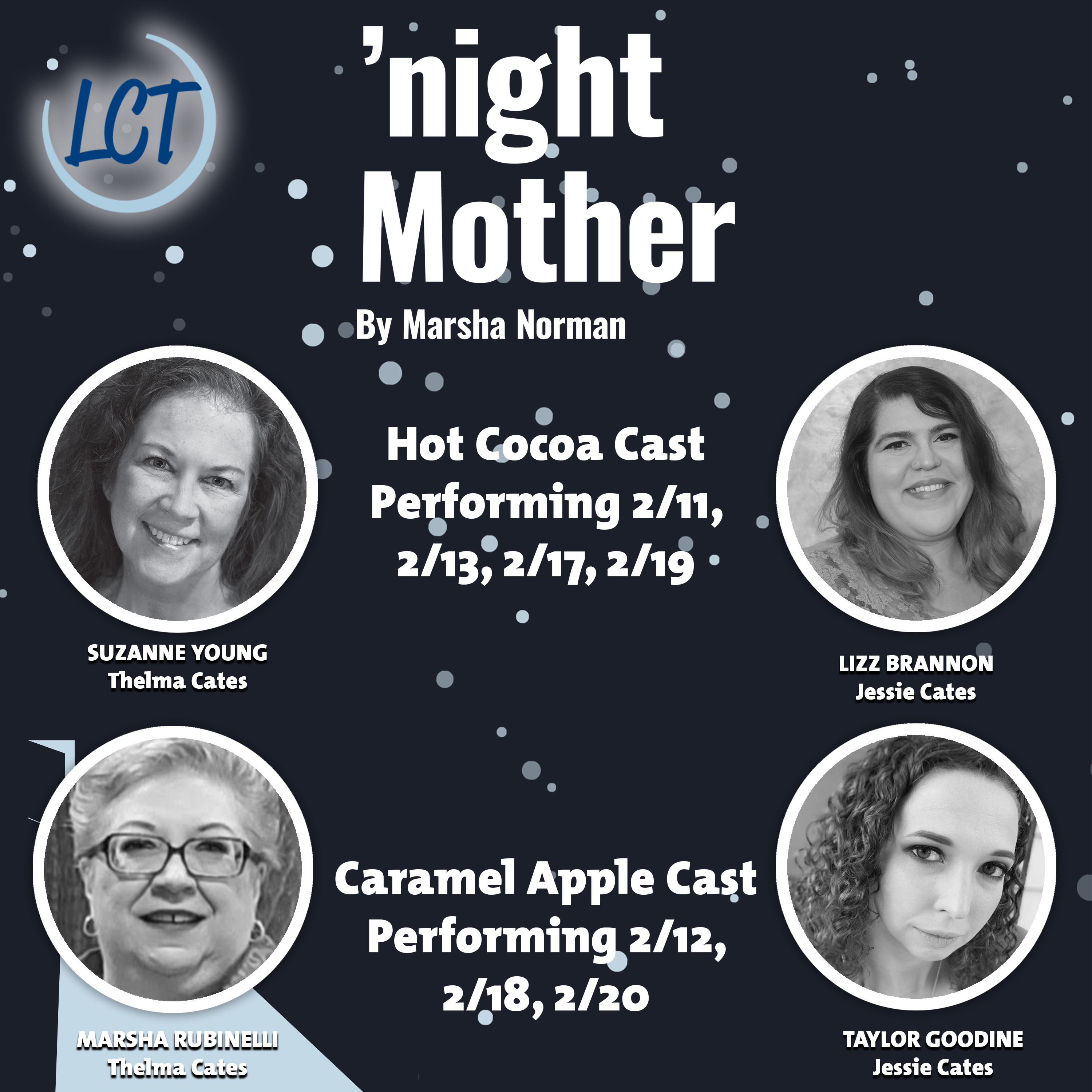 LCT has assembled the acting company for 'night Mother, the next Black Box Series production that will take to the stage of the Veterans Studio Theatre. For this production, LCT will be utilizing two casts of women to perform this dramatic Pulitzer Prize-winning two-hander by Marsha Norman. 
"We had such a wonderful pool of talent to choose from during this audition process, that we elected to cast two sets of women in order to highlight all of the unique gifts and abilities that each of these women will bring to these roles," says Executive Director, Jase Sullivan. "Each set of performers will alternate performances during the run of the show, allowing for audiences the potential to experience two unique takes on these characters and their relationship."
Performing in the "Hot Cocoa" cast will be Suzanne Young as Thelma Cates and Lizz Brannon as Jessie Cates. Young has previously appeared on our stages in Wit and Driving Miss Daisy, while Brannon last appeared in our 2019 production of The Bad Seed. They will perform on the following dates: February 11 (7:30p), February 13 (2:00p), February 17 (7:30p), and February 19 (7:30p).
Performing in the "Carmel Apple" cast will be Marsha Rubinelli and Taylor Goodine. Rubinelli last appeared onstage in Calendar Girls and most recently directed our smash-hit production of Who's Holiday! Goodine is making her LCT debut and is a member of the sketch comedy group, Live! from La Crosse. They will perform on February 12 (7:30p), February 18 (7:30p), and February 20 (2:00p).
Tickets for 'night Mother will go on sale to the general public on January 3rd and are currently available to season ticket holders.
For more information about tickets, visit our Box Office online or by phone at (608) 784-9292.