December 8, 2021
A Theatrical Family Affair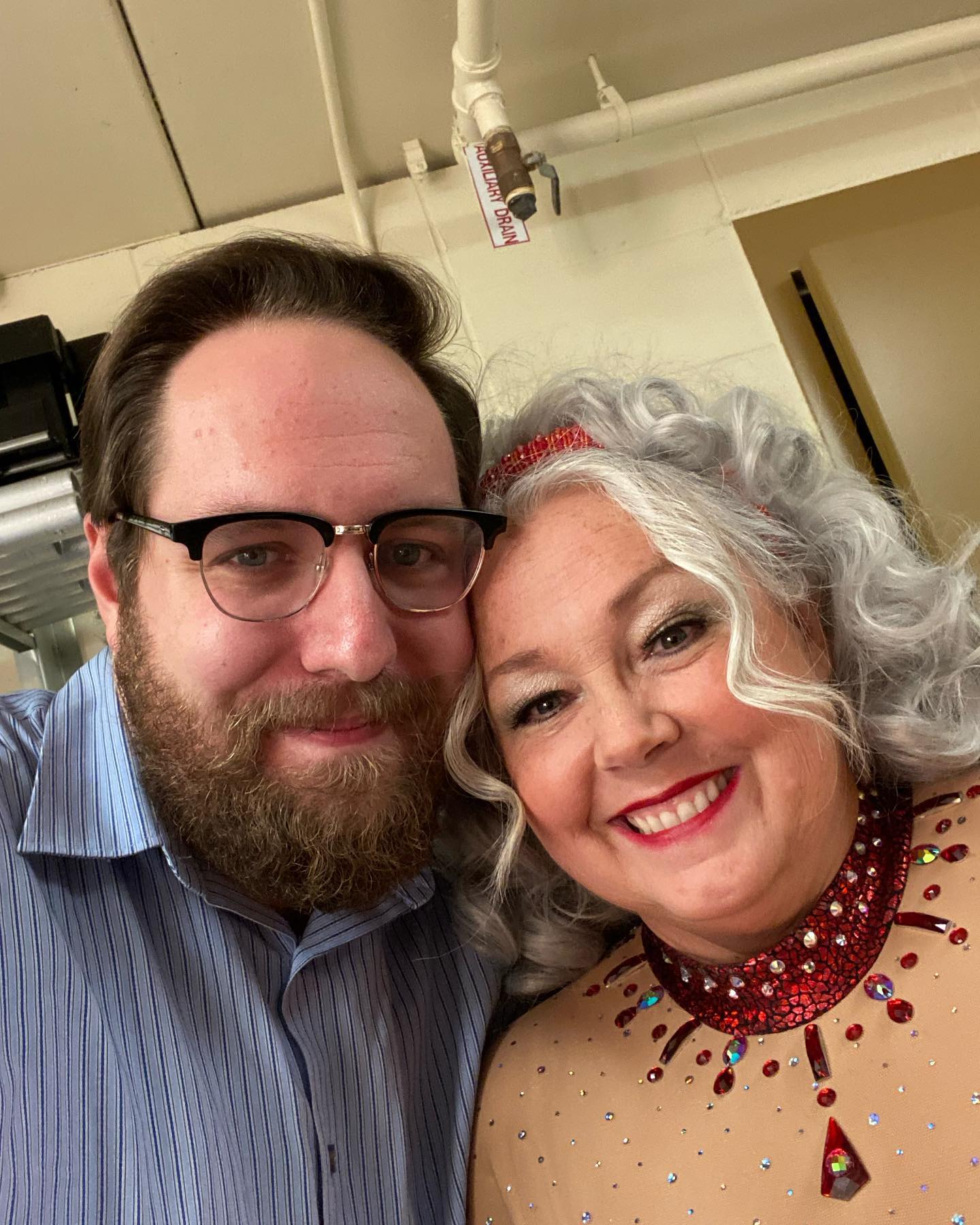 MacKinley Bruemmer visits his mother, Stacy Bruemmer, backstage at Who's Holiday!
by Seth Kieser
The La Crosse Community Theatre has been a longtime cultural institution in La Crosse, serving the community in its current form since 1963. Over the years, the company has seen many generations of families experience the magic of the theatre from the audience, often inspiring a love of theatre in many of its youngest patrons. Given the inherent nature of this theatre company being created for and fostered by the community, there should be no surprise that there are also many families that help to create the magic both onstage and behind the scenes to truly make it a family affair. 
Recently, I had the opportunity to sit down with our Who's Holiday! star, Stacy Bruemmer and her son MacKinley, who is appearing as Herr Zeller and understudying two principal roles in The Sound of Music, to chat with them before rehearsal about what it has been like to be a part of this institution and how things have ebbed and flowed over their more than 20 years of being involved with the company.
SK: When did you first start doing shows with LCT?
SB: You did…?
MB: It was fifth grade? My first one was 101 Dalmatians, Jr. a million years ago.
SB: I did…? My first one with LCT was...I think it was Funny Money...which was '96. It 
might have been 2000? Late 90s, early 2000s.
SK: So, 20 plus years, you two have been involved with the organization?
SB: A while, yes.
SK: What has it been like to see - especially starting over at the old space - the growth and development in terms of not only the building, but doing shows as a kid, the implementation of the Penguin Project, that kind of stuff; what kind of growth have you seen over the years?
SB: This is what I will say about that. And this could be just my take on it. The people behind this theatre - the administration of this theatre - I have never, ever, ever felt like a volunteer. I've always felt like a company member, like I'm getting paid. I've never felt that they were like "oh that's sweet…" Never felt that. So when we went from the old space to the new space, in my head, it wasn't much of a transition, except that it felt like this is where we were supposed to be. We were supposed to be in this space with a real fly system and a real backstage, a really good shop, and professional dressing rooms, and classroom space, and it just felt like for as long as we were this really high-end company, we didn't have the space. 
And then we got the space, and I feel like that opened a lot more stuff so we could be even bigger and do more interesting pieces. So we did Macbeth, we did Mary Poppins where she flew...We did The Producers at the old space. It would be so cool to do The Producers here because The Producers in the old space was awesome, but it was such a challenge. It was amazing and it was a great cast and it was fantastic! But that one set change at intermission - one set went down the street and was housed somewhere completely different and that new set came back in and it was like...what?!
SK: I will say as an audience member during that one, you couldn't even tell, it was just so seamless.
SB: Right?! That's because, Kyle [Delap, LCT Stage Manager] was in charge and Dillon [McArdle, current Director of the Viterbo Fine Arts Center] was in charge and we had such a group of people that wanted to see it get done and get done well. And John, my life partner, who is not a big theatre fan, came and saw that show twice. He paid money twice to see that show, which is not who he is as a human being, he's just not. The only other show he's ever seen twice is when we did The Secret Garden here. He loved it, so we came again with other people. 
It's like this is where we are supposed to be; we're supposed to be in this space, this company is supposed to have this space with all of the accommodations, have a big space and a little space and have an education department that can actually have classes for all people: small, young, old, new, seasoned - you can always learn something new. So we were just afforded a better kind of growth, but I've never felt like I was just a volunteer.
SK: So then, growing up taking classes, doing shows, did that influence you to want to pursue the arts as a career path?
MB: Oh, definitely. I think this organization…
SB: Oooh, tell him the Mary Poppins story.
MB: Mary Poppins?
SB: Mary Poppins. You were a senior in high school…
MB: Oh, right, yeah! When we did Mary Poppins, it was my senior year of high school and the first month of that was right before school, so I was here doing all kinds of fun stuff with cool theatre people, and I went back to high school, and about five minutes into the first day, I thought "you people are so laaaaame."
SB: So then, after Mary Poppins closed, theatre at school started up and it was almost worse, because here's this kid who's…(to MB) you come prepared, you don't make crazy and you're not silly and you've got a focus from the gate and you're going into it with a bunch of high schoolers who…
SK: ...Don't take it seriously?
SB: They just don't know how. You know, there's a certain amount of "theatre manners" that you get when you're with people who know what they're doing and you learn pretty quickly that you can't be a jerk.
MB: I have to say, Greg Parmeter, he was one of the previous Artistic Directors here, I often say he's the first person who wasn't required to believe in me, who believed in me. 
SB: Awwwwww!
MB: He was the first person who wasn't a teacher or a family member who went, "You could do this. You're good enough that you could do this for a career."
SB: That's so cool, I didn't know that!
MB: You didn't, I feel like I told you that.
SB: Nahhhh, you don't talk to me.
MB: Yeah...that's true.
SK: Going away to college and then coming back, what has it been like, particularly with COVID, reinserting yourself back into the theatre now that you are back home and have gone away and gotten an education? How do you use those tools here and now, especially that you are covering two roles in The Sound of Music and the fact that you have already had so much rehearsal time for those understudied roles?
MB: It's kind of like carrying over everything I've ever learned. It's almost like a fulfillment. I came in here knowing absolutely nothing about how any of it worked, really.
SB: As a kid.
MB: As a kid. And I grew up and I learned...(to SB) you talked about how the growth felt so natural. I guess, when I think about it, I don't really notice it because I was growing with the theatre as we were coming into [this new space]. And now, coming back, I get to just do it now. I still learn stuff, but I am just bringing the skills that I have acquired here and elsewhere and I just get to be the best version of myself as an actor in this space, where it all started.
SK: Have you two shared the stage together, then?
SB: Mhmmm!
SK: What has it been like to do that? I mean right now, you're carpooling here and working on separate shows, but what is it like to be in the same production and do you think that there is room for more family involvement?
SB: Well, our first show together was the Christmas…? It was a radio play…
MB: A Christmas Carol Radio Play.
SB: So, I was cast as a speaking part and Mac, who has a phenomenal voice, was in the little radio chorus. 
MB: I mean at this point, it's just like working with anybody else because when you do enough shows at a community theatre, you start working with the same people a lot...Whenever you're in a show, the cast basically becomes family and it's not much different when it's your real family that you're acting with.
SB: This just gives us more focus. At home, we're the same way, it's just we're unscripted.
MB: The production values are a little lower.
SK: So, since we are coming up on 60 years of LCT, you will have been involved with it for roughly a third of its existence. In the next 20 years, what do you hope to see for the company and what do you think there is to offer for the families that come through these doors to see shows year after year?
SB: Well, I really think that because it's community theatre, I want to see more community come together.
MB: Yeah.
SB: When I was the stop-gap education person, one of the things that I really wanted to do was to have classes where kids and parents came together. So we did a tech class, probably the winter before COVID really took over, and we had parents and kids come and learn what we do backstage so we had makeup, we had quick changes, and we talked about the flyspace. In sports, parents can support their kids by going to the games, getting them to their practices and that kind of thing. In theatre, you can support your kids by getting them to rehearsals and coming to the shows, but you could support them by being in it with them.
MB: You can be a part of it.
SB: Sports are great, but I don't think there are as many opportunities for a parent to participate in the sport with their kid. Mac was in football. I could fundraise. I'm not with him, but I could fundraise. I can go to the games. Still not with him. I can take him to the games, if we are in the same car. Whereas theatre, his first mainstage show was Camelot and I worked backstage, so I was with him, watching him on the stage while I'm getting the king ready to get dressed. I'm helping him move set pieces. I'm handing him props, he's handing me props. So I was doing something with my kid not just for my kid and I think that's special and it's cool.
MB: It's something that's unique to theatre.
SB: It's not an opportunity you get as a parent because my daughter was also in sports and I can say the same thing: there was just not a lot of opportunity to do something with her in sports. I don't coach, so I can "rah-rah," but I couldn't tell her how to play basketball. But in theatre, we can work on lines together. We can learn music together. We can gripe about tech week together. We can work together, side by side at strike, which is not something you're afforded in the sports world. And it's like the untold thing. 
I did not come from a theatre family, I was all by myself and I remember the first show I did was Oliver! at a community house in Denver, CO and they needed people to come help build the sets so my dad said "Well, I can pound a nail and drill a drill…" and he went and came back and said "That was so cool. That was SO cool." So we had all of these people who helped build the set and when he came and he ushered or came and helped strike or came and put the set up in the space, he had that ownership too and he was a physical part of that production, which is not afforded people in the sports world. It's neither here nor there. It just is.
 Who's Holiday!, which opened on November 26th, runs through December 18th with performances Thursdays-Saturdays at 7:30 p.m. and Saturdays at 4:00 p.m. Tickets are $30 general admission with two $50 VIP tickets available for all performances. The Sound of Music, which opened on December 3rd, runs through December 19th with performances Thursdays-Saturdays at 7:30 p.m. and Sundays at 2:00 p.m. Tickets are $35 in the Orchestra and $30 in the Balcony. Student and Military discounts are available for all price levels. $20 rush tickets (subject to availability) are also offered for both performances. For more information, call the LCT box office at (608) 784-9292 or visit our website.